This once sleepy town has skyrocketed into many investors' radars.
Sepang has come a long way since its early days as a little-known district in the Selangor state. True to its name which is said to originate from a popular tree in the area, Sepang has gone from strength to strength with meteoric growth.
It is the youngest district in the state and borders other more established areas such as Hulu Langat, Kuala Langat and Petaling districts. In 1975, several areas from Kuala Langat (Sepang and Labu) and Hulu Langat (Dengkil) districts were merged into what is now known as Sepang.
Sepang's profile and popularity soared when the Malaysian government decided to build the Kuala Lumpur International Airport (KLIA) in the district. Since KLIA was launched in 1998, it has become one of the busiest airports in the Asian region and the world. The Sepang International Circuit has hosted several high-profile auto races including the Formula One (FI) and garnered worldwide acclaim. Accordingly, property development, investment and value in Sepang have appreciated in tandem with its central role in the nation's growth. 
Its rise to prominence has seen Sepang gain more attention from property investors, so much so that it is often on the shortlist of property hotspots in Malaysia's central region. Could it be an emerging property hotspot in 2020? Below we look at some data to support Sepang's potential for property investors.
Sepang's Demographics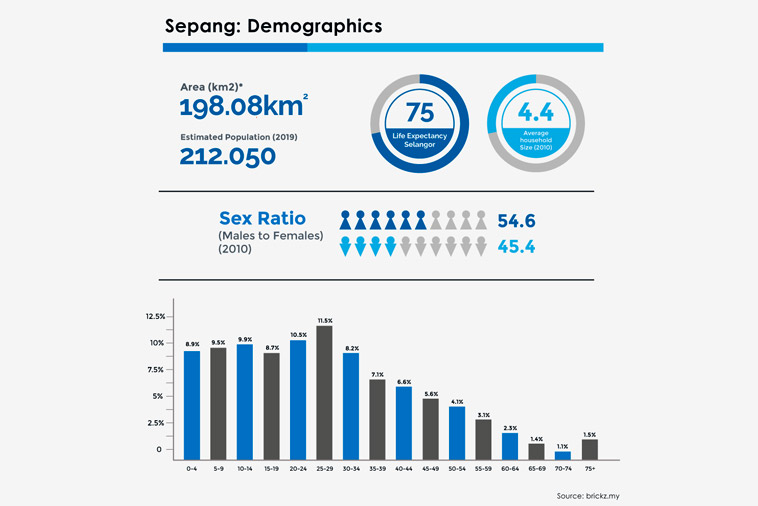 Vibrant population, strong economic potential
A breakdown of Sepang's demographics (2010) shows that almost half (49.5%) of its estimated population of 212,050 (2019) is comprised of those between 20 and 50 years old i.e. 20-25 years (10.5%), 25-29 years (11.5%), 30-34 years (8.2%), 35-39 (7.1%), 40-44 years (6.6%) and 45-49 (5.6%).
In terms of ethnicity, the population comprises Malays (57.4%) followed by Chinese (13.6%) and Indians (17.7%) at an average household size of 4.4 people. With a population that is skewed towards the young and a good mix of ethnicities, Sepang's demographics imply strong commercial and economic potential, backed up by a median household income of RM8174 (2016).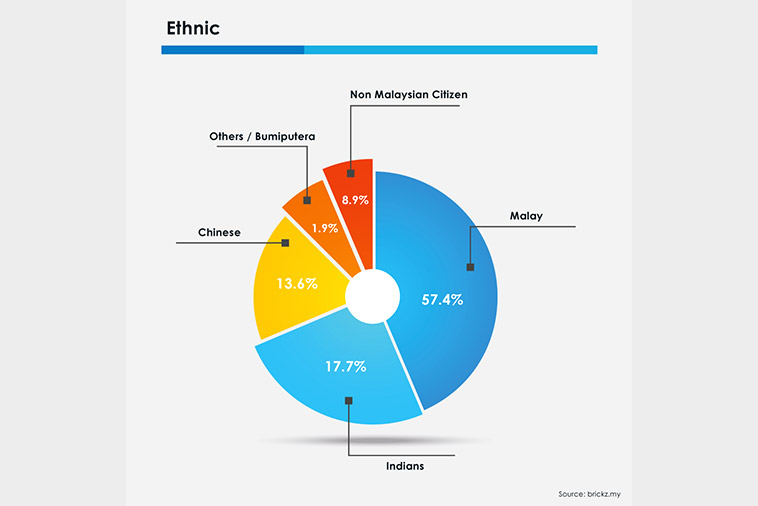 Sepang caters to both sexes with a quite even split of males and females in its population (54.6%:45.4% – 2010). Its significant portion of children/teenagers in its population (0-19 years old) also suggests that it is a highly favoured area among families.
Overall, the basic demographics of Sepang point to a vibrant and balanced community poised for further growth in upcoming years.  
What are people buying in Sepang?
Healthy demand despite challenges
The positives above are borne out by statistics on property transactions in Sepang in recent years. According to 2018-2019 data on sub-sale property (size: 751sf – 1000sf, price range: RM 100k – RM 200k), the most popular property type by far was landed property. Terrace houses comprised the bulk of sub-sale transactions (64%) followed by semi-detached houses (22.4%).
Property investors would be keen to see that capital and transaction growth (y-o-y) for sub-sale residential property in Sepang (2018-2019) was relatively healthy at 4.9% and 3.5% respectively. Asking median rent (2019) of RM1600 and asking rental yield (2018-2019) of 4.03% are also encouraging for potential property investors. 
Despite a challenging property market, it looks like demand for Sepang property has remained firm and that should be good news for investors.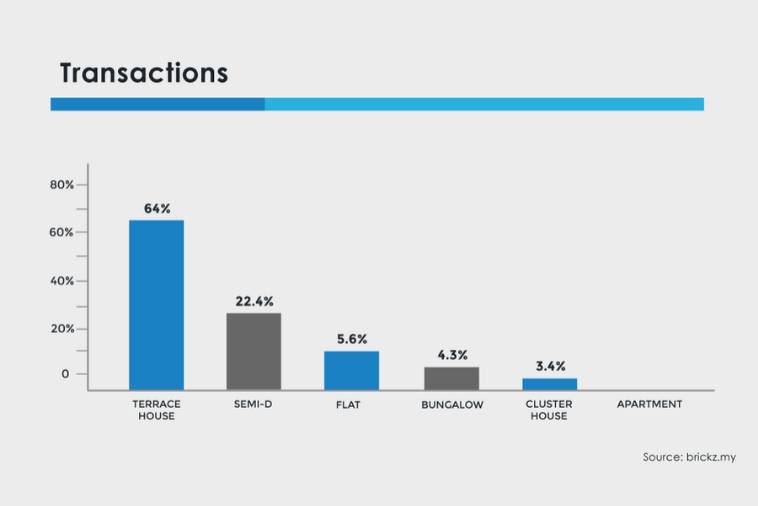 Future investment and growth prospects
More developments are planned for the future in the Sepang area, especially those linked to transportation hub such as the KLIA Aeropolis which will leverage on KLIA's available capacity to cater up to 140 million passengers per annum with a potential fourth runway.
KLIA Aeropolis' three core clusters are air cargo & logistics, aerospace & aviation, and meetings, incentives, conventions and exhibitions (MICE) & leisure. Its air cargo and logistics segment alone is projected to generate RM1.6 billion in gross domestic product (GDP) and create 6,000 jobs by 2022. Other than job opportunities, this project will also lead to more commercial developments and attract population migration.
Another high-profile development is the Xiamen University Malaysia in Sunsuria City, Sepang which was initiated in 2011. It is the first overseas campus set up by the prestigious Xiamen University in China.
Most classes in Xiamen University Malaysia are taught in English, except for Chinese Language and Chinese Medicine courses. As at September 2018, there were more than 4,000 students in Xiamen University Malaysia. This huge student township will also provide mid to long term investment prospects for property investors.

If the infographics above have whetted your appetite to invest in Sepang property, you could look into Setia Warisan Tropika by premier developers SP Setia, a beautiful tropical resort township that is being launched at affordable prices. Located in Salak Tinggi, Sepang it is a practical choice for those working in KLIA, Putrajaya, Cyberjaya, Nilai, Seremban, Sepang, Puchong and KL Sentral 2.
Built within a secure, master-planned township, Setia Warisan Tropika is also conveniently accessible via major highways such as MEX, LDP, SKV4, SILK, ELITE, Putrajaya-Cyberjaya Expressway, North-South Highway, KLIA Expressway, Jalan Bangi-Dengkil, Jalan Dengkil-Bintang and Nilai-KLIA Expressway.
It includes 8 tropical-themed gardens and a waterscape! Choose from conventional or flexi-layout options (garden view or water canal) that offer more room and space to suit your living needs.
Original article can be found here: 
https://www.iproperty.com.my/guides/property-investment-hotspot-2020-sepang-sp/