Nikola and Workhorse have seen shares spike on new investments.
Tesla plunges 21% in worst day in history
Nikola partnership with GM on pickup propels shares 40% higher
Delivery van maker Workhorse reaches all-time-high
Electric car maker Tesla shed $82 billion in market value yesterday when the stock experienced its biggest single day drop ever (-21.06%). CEO Elon Musk saw $16.3 billion vanish from his net worth, which is the largest single-day wipeout in the history of the Bloomberg Billionaires Index.
Tesla has not been included in the S&P 500 benchmark index despite fulfilling the minimum criteria. The company behind the index, S&P Dow Jones Indices, did not explain why (they don't need to) and preferred to go instead with three others, including Etsy, a website for charming handmade crafts.
Besides this brutal snub, pushing the stock lower was also Nikola and General Motors' strategic partnership. Nikola stock skyrocketed 40.79% as investors feel the Badger pickup is in safe, reliable hands, and it looks set to continue to rise today.
Also interesting is shares in Ohio-based Workhorse, which are up over 600% year to date, were boosted by the news and reached a new record closing high of $21.38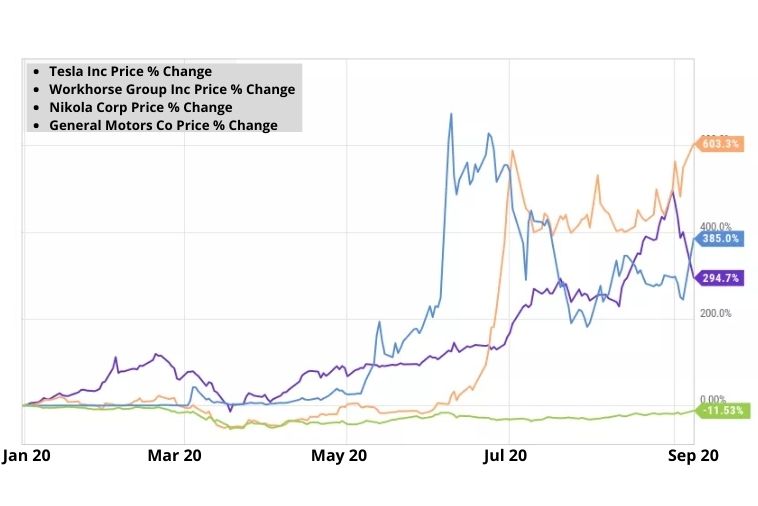 This small startup has been missing from a lot of the electric vehicle chatter online, partly because its core offerings (white, box-like, last-mile delivery/cargo vans) aren't as sexy as trucks or sedans, and because it's struggling despite having customers like DHL and FedEx.
Its future largely hinges on winning a U.S. Postal Service $6.3 billion bid for a new mail truck design this year. Around 180,000 vehicles will be purchased over five to seven years, and Workhorse is competing with Oshkosh/Ford and Morgan Olson/Karsan.
It noted in its latest earnings release it is the only medium duty battery electric vehicle OEM permitted and able to sell and deliver vehicles in all 50 states "which should allow us to further distance ourselves as the first movers in the last-mile EV space." It also has a 10% stake in GM-backed electric pickup truck maker Lordstown Motors, which will go public via SPAC soon. Lordstown and Workhorse were founded by the same person, Steve Burns.
The original article can be found here: https://www.investopedia.com/this-ev-player-hit-an-all-time-high-on-tesla-s-worst-day-5077258