Shareholders have been dumping energy stocks at a rapid pace so far this September, with many issues losing between 10% and 15%. Lower crude oil prices are driving the decline, although sector equities have the power to decouple from the futures market. The narrow correlation suggests growing uncertainty about the pace of the economic recovery and the potential impact of a second pandemic wave this winter. (See: Crude Oil Could Sell Off Into Mid-$20s.)
KEY TAKEAWAYS
The energy sector has been stuck in a secular bear market since 2014.
Selling pressure is picking up once again, with doubts about the economic recovery taking hold.
Exploration and production companies have posted steeper losses than refiners and distributors in recent weeks.
Climate change policy could generate much lower equity prices in coming years.
The energy sector has been stuck in a bear market since topping out in the spring of 2014. Downside was relatively limited until the first quarter of this year, when the pandemic triggered vertical selloffs to multi-decade lows, culminating in crude oil's historic plunge into negative numbers in April. The bounce into June had market watchers hoping for new uptrends, but price action since that time tells us that the decline isn't over yet.
The growing impact of climate change policy is also weighing on this fossil-fueled industry, with 10-, 20-, and 30-year plans in place to make the switch to clean alternatives. Tesla, Inc. (TSLA) is doing its part in waking up the gas-guzzling automotive industry, with major U.S., European, and Asian manufacturers now determined to play catch-up with Musk and company. Even the elders of the Dow Jones Industrial Average are making the change, booting Exxon Mobil Corporation (XOM) in August
Tip: A bear market is when a market experiences prolonged price declines. It typically describes a condition in which securities prices fall 20% or more from recent highs amid widespread pessimism and negative investor sentiment.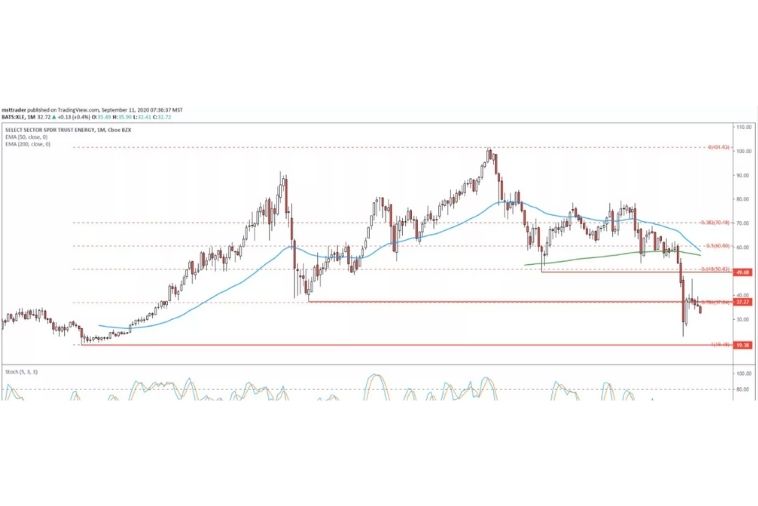 The Energy Select Sector SPDR Fund (XLE) posted an all-time low at $19.38 in 2002 and turned sharply higher, lifting to a multi-year high at $91.42 in 2008. It lost nearly two-thirds of its value during the economic collapse, finding support at $37.40 in March 2009, ahead of a persistent buying impulse that broke out above the prior high in 2014. That rally was short lived, reversing at $101.52 and failing the breakout a few months later.
The fund posted a higher low at $63.74 in 2016 and failed to catch fire after the election of Donald Trump, even though he promised to restore the industry's luster. Buying interest stalled in the $70s in 2017, while a 2018 breakout attempt failed, yielding a modest decline that broke support on heavy volume in February 2020. Price action since that time highlights resistance at the .786 Fibonacci rally retracement level, exposing downside into the 2002 low in the upper teens.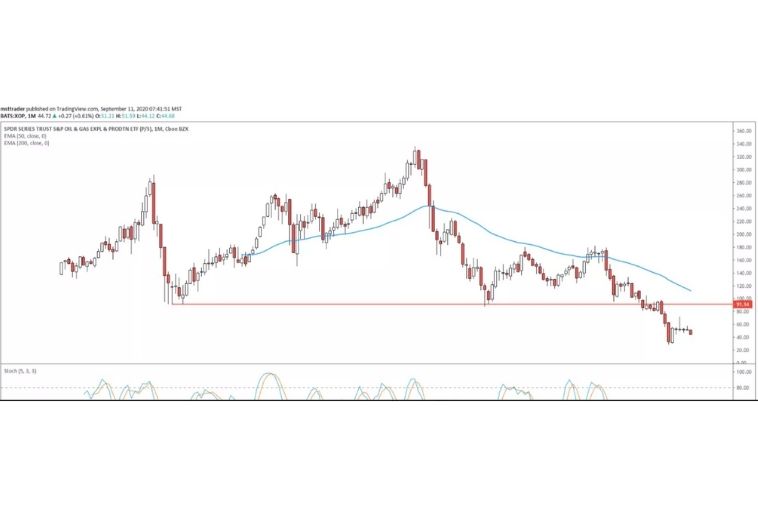 The SPDR S&P Oil & Gas Exploration & Production ETF (XOP) has been hit harder than its broad-based rival in recent years. The fund topped out at $292 in 2008 and sold off into the double digits during the economic collapse. A slow-motion uptick reached the prior high in 2014, yielding a higher high, followed by a failed breakout. The fund has been mired in a steep decline since that time, breaking the 2009 and 2016 lows in the pandemic selloff. March's one-for-four reverse split highlights growing stress, with the potential for far lower prices in coming years.
Tip: A reverse stock split is a type of corporate action that consolidates the number of existing shares of stock into fewer, proportionally more valuable, shares. The process involves a company reducing the total number of its outstanding shares in the open market and often signals a company in distress.
The Bottom Line
Selling pressure is picking up in major energy funds and equities after a modest bounce into June failed to end the sector's multi-year bear market. As a result, these issues could break their first quarter lows in coming months.
The original article can be found here: https://www.investopedia.com/energy-stocks-posting-steep-september-losses-5077578